Bobo Choses Series
Ariadna Montfort &  Juny
Ariadna Montfort Soriano was born in Barcelona and raised in Vilassar de Mar. Juny Montfort Garcia i Mateu was born and raised (so far) in Barcelona.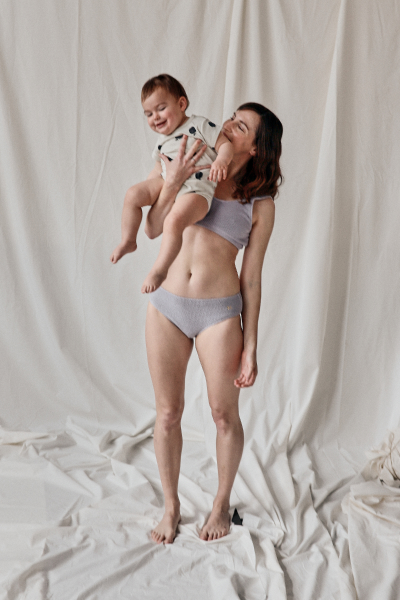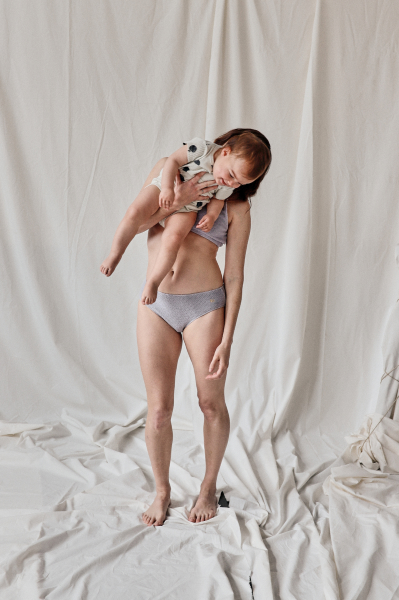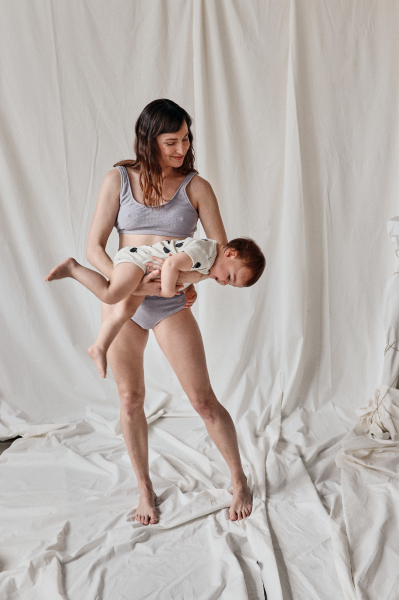 Hi Ariadna! Introduce yourself!
We live in a community-led housing cooperative called La Borda in Barcelona. Because of my job as a dancer, I often travel to perform in theaters and festivals abroad. Sometimes Juny and Adrià come with me. When we are all home, a day in our lives will look like this. The first thing we do right after waking up is cuddling in bed for a while and singing good morning songs. Breakfast, get ready to go, and have a stroll to drop Juny at school. I usually dedicate my mornings to get work done. Every day is a little different. Some days, it's many emails, phone calls, meetings, and coordination between my many projects. Other days it's rehearsals in the studio for upcoming performances. Some days I teach or take my training – at the moment, I am teaching private and group online dance lessons and teaching in different schools. Some mornings are dedicated to reading, studying, and working on my psychology degree. Lunchtime is usually our couple time with Adrià before going to pick Juny up from the kindergarten.
If possible, afternoons are fully dedicated to Juny. Play, play, play. We like exploring the city parks, meeting with other families with children, reading books, playing music, dancing and letting things flow. On the weekends we love to get out of the city to have some connection with nature. We often go to Vilassar de Mar to my parents' family house by the beach. When we stay in town, we enjoy the broad cultural activities that the city offers. Museums, art workshops, and attending concerts, Juny is crazy about music!
Being a mother isn't always easy, but I love it!
How do you contribute to a better world?
I believe that a better and more sustainable world comes with everyday habits. In the past years, I've been shifting patterns towards more sustainable living that have to do with buying local and ethically made products, reducing, repairing, and reusing. The amount of plastic that enters our house is minimal. The latest family member to have joined us is solid shampoo. We love it, and it has come to stay. Far from being perfect, we are working continuously to become more conscious and consequent with our actions.
What would a world run by children be like?
There would be no clocks. The sense of time and space would be just connected to the here and now. We would only learn and relate to each other through play. We would sing much more than what we do now. Life would be full of surprises and improvisation. We would be less directed by whoever rules the world and much more encouraged and connected to exploration, risk-taking, and astonishment. Recommended book: "City of children" by Francesco Tonucci. It's a must-read!
Did you want to be a dancer since you were a kid?
I started taking dance lessons when I was five years old because my parents detected I was very connected to music and would find me dancing everywhere from a very early age. I have never stopped dancing since. I remember having a clear vision of my future life being on stage and not sitting in an office. I remember the mental image, the feeling, and the conviction of it. I was probably around eight years old. When I was fourteen, I decided I wanted to become a professional dancer. When I was eighteen, I got accepted to a dance college in Switzerland, and when I was twenty, I got my first job as a dancer. It's been a beautiful and exciting career ever since that has taken me around the world and has connected me to the most diverse and inspiring people.
What could dance do for a better world?
Everyone is born with the ability to dance, and I wish people had a more profound and greater connection to their bodies. Think about it; dance is an activity that everybody enjoys, in one way or another. Moreover and luckily, dancing is something that will not only bring a smile to your face but can also help improve your physical and mental health. It is a great exercise that gets your mind and muscles working no matter who you are. It increases strength and overall health. It boosts memory, and it improves flexibility. It reduces stress; it diminishes depression; it increases social skills and confidence… I do not doubt that dancing is an excellent recipe for a happier and healthier world!
How would you like Juny's future to be?
I am aware that challenges and conflict are a significant and essential part of life. I hope I'll be able to provide Juny with the basis of an ever-growing toolbox that will enable her to deal with whatever comes in the healthiest possible way. I will work hard to help her develop emotional intelligence and learn how to listen and orchestrate her three brains: the one in the head, the one in the stomach, and the one in the heart (there's a neuronal activity in the 3 of them, in case you didn't know!). I will always encourage her to find and follow whatever she is passionate about since it's the strongest drive we may have in life. I wish her to live in a feminist, sustainable, peaceful, exciting, inspiring, compassionate, kind, stimulating, fair, and emphatic world.
Do you want to learn more about the story behind the new Iconic Collection?